Adam Roe Painting, Inc, proudly announces that we were presented with the PIPP (Picture It Painted Professionally) Award from the Painting Contractors of America on March 4, 2022, at their annual Expo in Orlando, Florida.
The project that qualified us for this award was the Tomlinson South Meridian YMCA Aquatics Center. ARP's scope in the project consisted of applying concrete coatings, metal priming and coating, and epoxy wall coverings in the center. ARP met the criteria set forth by PCA by integrating the exceptional use of color, innovation, specialty finishing techniques, safety compliance, technical skill(s), creativity, project difficulty, and superior execution.
PCA only grants six such awards to painting contractors that are members of their organization. Award categories include:
1. Best Light Industrial Painting Project
2. Best Residential Project (interior or exterior)
3. Best Commercial Project (interior or exterior)
4. Best Residential Restoration Project (interior or exterior)
5. Best Commercial Restoration Project (interior or exterior)
6. Best Decorative/Wallcovering Project
Adam Roe Painting won in the first category of Light Industrial Painting Project for the professional painting work that we provided for the aquatics center project.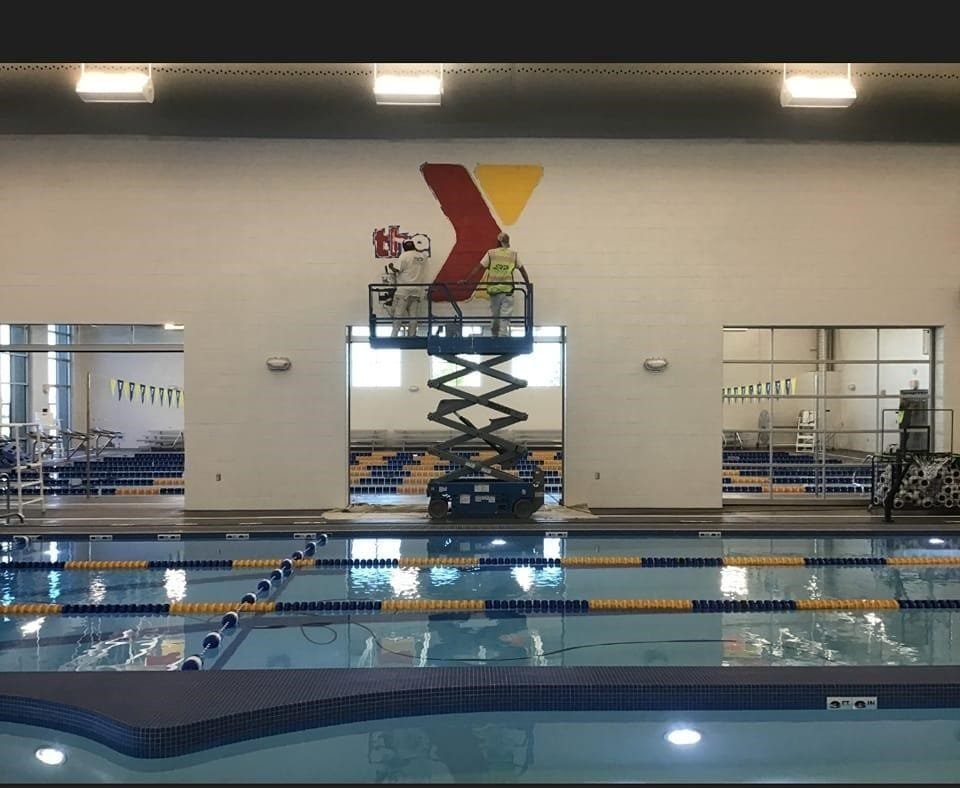 A Challenging Painting Project
Adam Roe Painting is extremely proud of the work we did on the Tomlinson YMCA Aquatic Center. The project was very successful and completed on time, but it was not without its challenges. Among them were:
1. Working in Tandem with other Contractors
This phase was the final one of prior efforts on the YMCA that ARP contributed to as well. With multiple contractors on-site performing different tasks in a tight workspace, communication was of the utmost importance. ARP had a great relationship with the owner, the management, and the prime contractor on the project. We all worked together to achieve the successful completion of the project with minimal impact on the schedule and specifications.
2. A Strict Timeline and Completion Date
The Grand Opening Ceremony was planned for a specific date and time so the completion date could not be moved. The Pool Installers schedule impacted ALL the other subcontractors' ability to perform their scope and created scheduling changes and process interruptions. We also had other challenges out of our control which we mitigated by the use of the PCA Standards and our professional working relationships, well-trained staff, and the Management Team's attention.
3. Changing Requirements throughout the Project
Let's face it; most projects have some issues with changes during the execution of requirements. Those changes were very stressful for this project because the completion date could not slide. We complied with the requested changes by re-analyzing the situation, using our past experience with similar projects, being flexible, and adding necessary resources.
4. Covid-19 restrictions
This project progressed through the COVID-19 pandemic, presenting its own unique challenges. It required our staff to be diligent about COVID testing and quarantining when symptoms occurred. Besides the labor shortages, the shipping times for products were greatly extended. This called for much greater flexibility and re-planning than in normal times.
Supporting the Local Community
Adam Roe Painting is a strong supporter of the Meridian community, as well as other cities and towns in the Treasure Valley. Supporting our Youth is high on our list of priorities.
Many of the children here in Idaho die every year in our vast network of irrigation canals. We believe that the community truly needed this aquatics park to help teach our youngsters water safety, swimming skills, and most importantly, to give them somewhere to swim rather than seek out the dangerous irrigation canals on a hot summer day.
Mike Kapuscinski, executive director of the South Meridian Family YMCA, championed the construction of the new aquatic center. He believes that it will have a positive impact on the community, especially for kids.
Mike was very pleased with the work done by Adam Roe Painting, saying, "Working with Adam Roe Painting is an absolute pleasure. Adam and team are customer service-focused. They address any and every customer concern with professionalism. ARP team members pride themselves in craftsmanship. We cannot think of a team that deserves this award more than Adam Roe Painting!"
Membership in PCA
Adam Roe Painting has been an active member of the Painting Contractors Association, an organization dedicated to the success of painting contractors by maintaining industry standards, providing best-in-class education, and building a community of like-minded peers. The organization provides training, certifications, standards, and ongoing support to its more than 300,000 members.
PCA is the only official trade association dedicated to the success of painting contractors in the US and Canada. Through apprenticeship and business education, community, and the seal of the industry standards, the organization is committed to raising the skill, reputation, and ethics of the painting industry.
Select an Award-Winning Painting Contractor
Adam Roe Painting (ARP) likes to refer to themselves as the Authentic, Reliable, Professional painting contractor. We have been providing commercial, industrial, and residential painting services since 1985 to satisfied customers in the Treasure Valley community.
ARP goes above and beyond to meet our customers' expectations by using high-quality paints and products for the best results. We have all the equipment needed to tackle any project, large or small.
ARP is committed to excellence, making sure our painting technicians are qualified, trained, and knowledgeable in all the latest techniques. All employees are background-checked for security reasons, so customers can feel comfortable having them on-site.
Safety is a high priority for the company. Our staff receives ongoing safety training to prevent injuries and accidents. We proudly sponsor the annual Safety Fest Event in Boise, providing FREE safety training for the entire community. We are also very active and supportive in several other ongoing community events.
When you need the best painting results for your commercial, industrial, or residential painting project, choose the best painting contractor. As always, initial consultations and estimates are complimentary.