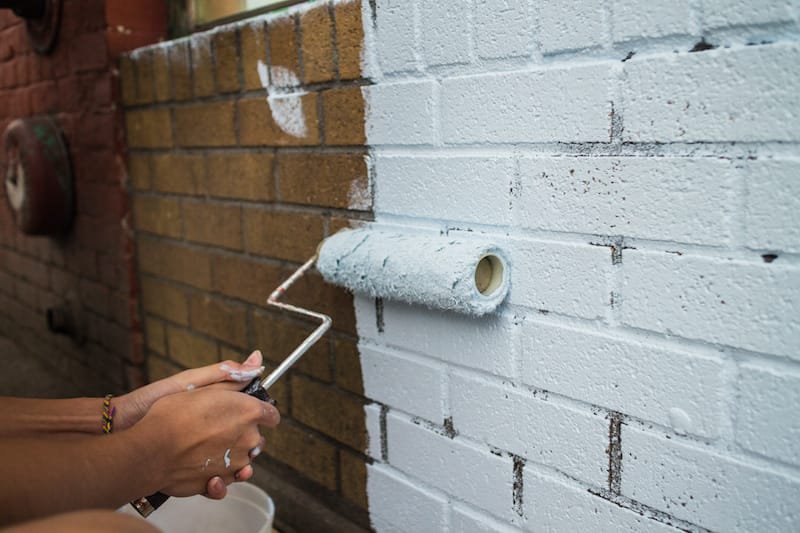 When you're looking to update your home, you may consider painting the brick. Brick paint is a good way to cover up stains or chips in the bricks and make them look new again. It can also be used to match the color of your brick if you have white mortar between them (or vice versa). However, while painting brick may seem like an easy solution, there are plenty of drawbacks as well–especially if you want something that looks new!
Paint Can Chip or Crack:
Paint can chip or crack, sometimes within years. It can also stain surrounding bricks.
Paint is difficult to remove and may require sanding the surface, which will damage your brick's texture.
If you're painting brick in a wall in an area where people walk often (like a patio or sidewalk), it's likely that they'll slip on your newly painted surface due to its slickness. This could lead to injuries for both you and your guests!
Depending on how much paint you use, this project may end up costing more than simply hiring professionals who know how to handle these materials properly–and then there's always the issue of disposal after removing old paint jobs…
Brick paint is a good choice for any brick that's been painted previously or that has been stained with paint containing lead. The paint will cover up old stains, and the surface won't be slippery after you've applied it.
If you're painting brick white or another light color, though, wait until springtime so that the sun can warm up your house and help dry out any moisture trapped under the fresh coat of paint (which could cause mold).
Brick Paint comes in Many Different Colors and Finishes
The best part about painting brick is that it comes in many different colors and finishes to match any style you have in mind. From solid colors to metallic and even semi-transparent, there's a color for every homeowner's taste. Brick paint can be applied by brush, roller, or sprayer–and it's easy! If you're looking for an easy DIY project with professional results, then this is the way to go.
Drawbacks to Painting Bricks

If you decide to forge ahead and paint brick, be aware of its drawbacks so you can avoid them. Paint can chip or crack–sometimes within years. It can stain surrounding bricks and make them look like they're covered in mold, too. Painting brick is a good choice for any brick that has been painted previously or that has been stained with paint containing lead (which was common up until the 1970s).
If you decide to follow through with painting brick, make sure that you do it right. The best way to ensure this is by hiring a professional painter who has experience with this type of project. If you want your new paint job to last as long as possible, they'll be able to give advice on how best to maintain it over time.
About Adam Roe Painting in Meridian, Idaho
Since 1985, Adam Roe Painting has provided the highest quality results and best customer service in the industry. Our professional crews can apply high-performance coatings to a wide range of surfaces. We understand the importance of preparing and coating surfaces to meet safety standards and stand the test of time. Our industrial floor coatings protect against harsh environments and corrosive materials often found in commercial settings. We offer custom color matching, a residential exterior warranty of 5 years, and a one-year warranty on commercial and industrial projects. Contact us online or call (208) 306-4240 to discuss your project. We look forward to working with you.